'Christmas' A very merry evil Corporate Tour
The ghosts of christmas past in Kingston upon Hull come alive around Christmas and leave no one alone. Ghosts at any time of year are unusual but in Hull they are exceptional in every way.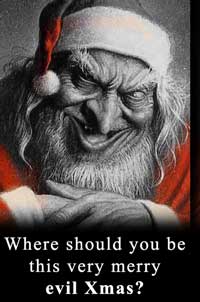 Some of the most unusual christmas ghosts and apparitions have entered homes, offices, yards, schools, hospitals and more. Terrifyingly seen by tourists, locals and dignitaries in the most festive of seasons and particularly when least expected. Then again isn't that the best time to see a ghost?
Are we encouraging the ghosts of Christmas past to appear or have they another reason to haunt your Yule tide celebrations? Believe or not you are in for a surprise, Christmas ghosts are prevalent in many areas of Old Hull. Good and bad, evil or saintly these ghosts only seem to appear around the Christmas festivities. Find out more and join us on these special 'Xmas Nightmares' Scare event.
Enjoy the outrageous 'Live' show, and experience the very merry 'UNDEAD' as many of Hulls Most Haunting memories and terrifyng characters join you!
Make sure you avoid the witches curse, do not listen to the strange song or even the widow makers looks for they are all after your soul whether is is good or (even better) bad. But keep out of father times way, it goes without saying.....or does it?
---
We are looking to grow this Annual corporate 'Xmas Nightmare' Scare event at one of Hull's creepiest times. We are always looking for ideas, sponsors, volunters and actors to join us.
Individual, group, corporate
We will take you on a 'live' scarey tour.
As history quite literally comes alive!!!
---